Interview with Claire Freedman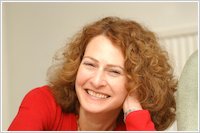 Q. What is your motto or maxim?
Treat other people as you would like to be treated yourself
Q. How would you describe perfect happiness?
Being fully content and at peace with yourself, your loved ones, your life, and with God.
Q. Which living person do you most admire?
Probably some brilliant surgeon out there, saving lives.
Q. If you could acquire any talent, what would it be?
I'd love to be able to illustrate my own books
Q. What is your greatest achievement?
Getting published!!
Q. Who is your favorite fictional hero?
Snoopy
Q. What is your biggest pet peeve?
A. I have two – dog poo and litter
Q. What are your 5 favorite books of all time?
I don't have 5 favourite adult books – it would be impossible to choose. However my one time all favorite children's book is A Little Princess by Frances Hodgson Burnett.
Q. What comment do you hear most often from your readers?
What gave you the idea?
Q. How did you come to write Aliens Love Underpants!?
I submitted a book about aliens to my editor at S+S and she liked the aliens idea, but made the request for the inclusion of underpants!
So, I wrote another rhyming text which I thought was extremely silly, emailed it to my editor, Katherine, and felt rather embarrassed about the text as it was so madcap. Katherine then rang me 20 mins later in fits of giggles and the rest is history!