Interview with Kate O'Hearn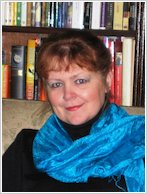 When did you have the idea to write Pegasus and the Flame?
The idea came to me a couple of years ago, and all by accident. A friend asked me if I would ever write a book about horses. I responded, No, not unless it was Pegasus, as he's my favourite stallion in the world.' After that, the idea just spread like wildfire until it became Pegasus and the Flame. I think I owe that friend a big Thank You! (And maybe a huge box of chocolates.)
In this book, Emily and Joel are very normal teens, who become heroes. Did you believe that ordinary people can make a difference?
Absolutely! I have always believed that it is the ordinary people who make all the difference in the world! They are always the best heroes. How often have we heard stories of ordinary people doing extraordinary things? Most of the time, they don't even want thanks. They are just everyday, generous and wonderful people. So I believe that each and every person – you, me, anyone – can make a phenomenal difference to this world if we try.
How did you find mixing mythology and the modern world?
It was amazing and so much fun. I grew up with the myths and have always loved them. To have this opportunity was more than I could have ever hoped for. Even before I started writing the book, I felt I already knew the characters so well – it was like revisiting old friends. But what really excited me was to put those great Olympians in our modern world and imagine how hard it would be for them to fit in. I mean, hiding Pegasus in the middle of New York City? It doesn't get better than that!
Pegasus and the Flame has been compared to the Percy Jackson books by Rick Riordan. Have you ever met Rick Riordan and has he influenced you?
I haven't met Rick Riordan, but I really want to! I have read the Percy Jackson books and love how he mixes the myths with reality. We are so different in our approach to our stories, but I can tell he cares for the myths just as much as I do! I'm such a big fan of his. I can just imagine the fun we would have debating the difference between the Greek and Roman myths! I hope that one day I may have the opportunity to meet him and personally thank him for writing such fantastic books and for being so generous in writing his great review of my book.