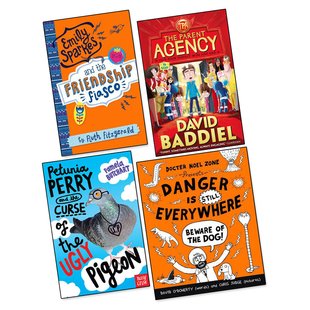 Look inside
Best Laugh Out Loud Books for Ages 9-13 Shortlist Pack x 4
Want funny? Extra funny? That's what the Scholastic Lollies Awards are for. When the Roald Dahl Funny Prize stopped, we felt very sad. So we decided to make a new funny prize of our own – and the Laugh Out Loud Book Awards were born. If you've passed by Scholastic Towers lately, you might have heard some strange noises. Weird groaning. Loud snorting. Peals of 'tee-hee-hee-hee'! Well – this is why! As head judge Michael Rosen puts it, the prize is like a great big signpost saying "This way laughs". And now you've arrived!
The full shortlist for the Lollies Award Ages 9-13 category
This Scholastic prize celebrates laugh-out-loud fiction
Chosen by judge Michael Rosen and an expert panel
Wonderful stories by new and established authors
Who's reading this?
We want to read this book