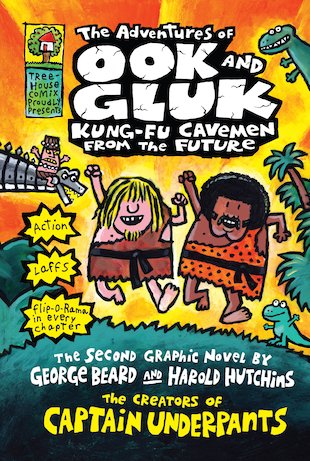 Look inside
Captain Underpants: The Adventures of Ook and Gluk, Kung-Fu Cavemen from the Future
Hold onto your pants for this awesome adventure from the author of the million-selling Captain Underpants! Harold and George are back – presenting the sensational saga of two crazy kung-fu caveboys raising hell in 500,001 BC! Ook and Gluk have a pretty great life growing up together in Caveland, Ohio, even though they're always getting into trouble with their short-tempered tribal leader, Big Chief Goppernopper. But the boys' idyllic life takes a turn for the terrible when an evil corporation from the future invades their quiet town… With action, laughs, comic strips and flip-o-rama fun in every chapter, here's excitement aplenty to blow your pants off!
Fun Stuff
Activities
Colour the crazy cavemen from the future!

Can you complete all the words in this kung-fu puzzle?

Can you solve Master Wong's Maze of Peace and Stuff?

Learn to speak the caveman way with Ook and Gluk.

If you could leave a message for the people of the past or future, what would you say? Write or draw it here.
Who's reading this?