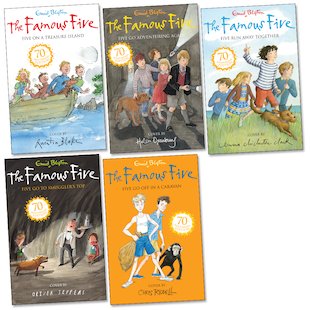 Look inside
Famous Five Anniversary Pack
The books that all the other adventure writers try to copy! The timeless classic stories of five young sleuths who fall into adventure time and time again!
One summer, Julian, Dick and Anne are sent away to Cornwall to stay with their aunt and uncle. There, they meet their cousin George – a fiery tomboy who refuses to be separated from her dog, Timmy. That's how the Famous Five are born: Julian, Dick, George, Anne and Timothy the dog! As the kids explore the coves and cliffs of Kirrin Island together, they run into a row of spooky mysteries. Soon they are on the trail of shipwrecks and buried treasure, smugglers, thieves and ruthless kidnappers…
These fantastic 70th anniversary editions feature specially commissioned new covers from favourite illustrators including Quentin Blake, Oliver Jeffers and Chris Riddell.