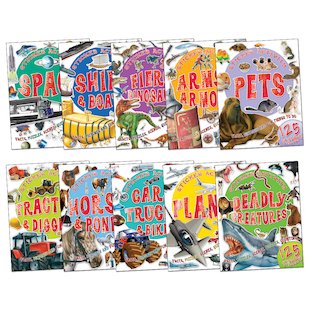 Look inside
Favourite Topics Sticker Activity Pack
Favourite topics get totally sticker-tastic in this cool ziplock carry case. Deadly creatures. Dinosaurs. Vehicles. Armour. Pets. Get the sticker lowdown on them all! Packed with awesome topics for projects and fact-hunting, this fantastic pack gives learning an exciting new twist. Check out the biggest trucks on the road. Learn how Roman gladiators protected themselves in battle. Find out how to care for your dog. Meet the deadliest creature on Earth. With over 125 stickers in each colourful book, plus quizzes, puzzles and jaw-dropping facts, you're in for an activity bonanza!
Zip-lock carry case contains 10 books with 125 stickers each:
Fierce Dinosaurs; Deadly Creatures; Pets; Horses and Ponies; Cars, Trucks and Bikes; Arms and Armour; Space; Tractors and Diggers; Planes; Ships and Boats.