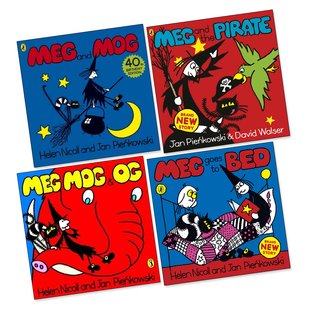 Look inside
Meg and Mog Pack x 4
Cheeky laugh-out-loud classics. Think scraggly witch Meg and her cat Mog look a bit funny? Well, they are! They've spent forty magical years making little people chuckle. And they're not even tired yet! (Well, maybe a bit in Meg Goes to Bed.) What's so funny about them? Is it the wacky pictures, with their cheeky scribbles and bold colours? Or Mog's startled expressions and the way his fur sticks up? Or is it the fact that Meg's spells nearly always go wrong? Read these classics yourself, then have fun choosing YOUR funniest bit.
Over 3 million Meg and Mog books sold in the UK alone
Classics which have delighted kids for over 40 years
Brilliantly simple books ideal for the very young
Jan Pienkowski has won the Greenaway Medal twice
Who's reading this?
We want to read this book