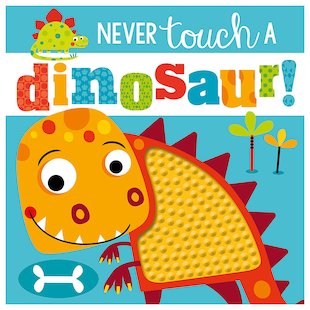 Look inside
Never Touch a Dinosaur!
Never touch a dinosaur! You've been warned. It might run away, snort and stamp, or even bite you. Ouch! Remember: a dino isn't a cat, so don't pat. Pointy claws? Just hide indoors. Oh, and do NOT stroke the spines on its back, unless you fancy becoming a dino snack! Yes, we know the dinos in this book look incredibly cute and friendly. But don't touch them! Or actually, do. There is one place that it's safe to touch a dino – and you've just found it. The cover of this book!
A witty storybook with a rubbery silicone textured cover
Bright, bold artwork and a best-loved dinosaur theme
A funny rhyming text warns children never to touch a dino
Kids will love reading the advice – and then ignoring it!