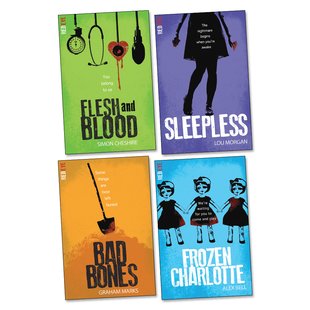 Look inside
Red Eye Horror Pack x 4
Find your creepy! Is it: eyeless antique dolls? Empty hospital corridors? The sensation of eyes watching you? Freaky horror to plug your Neil Gaiman gap. Some horror fiction wimps out. (It's just too nice for any blood.) Result: you get half measures. It annoys us. Which is why we're massive fans of Red Eye: a grisly series that pulls no punches. Hello, totally insane fear factor! Wealthy townsfolk with a very dark secret. A sinister pill that helps you pass exams. The dead girl and her freaky antique dolls. The corpse whose secrets aren't quite buried. Indulge in the epic spook-fest – then add to the incredible reviews by telling the world which book you think is scariest.
Totally addictive and compelling YA horror
All the grisly fun of Point Horror for the digital age
Written by award-winning authors and rising stars
Fabulous reviews from teens and the press
This pack contains mature content and language more suitable for older readers.
#gift-guide-teen-fantasy-adventure
#summer-18
#sum-18