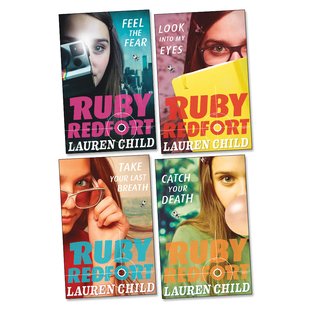 Look inside
Ruby Redfort Pack x 4
Need a genius detective who pulls no punches? Mystery solved. This tough-cookie sleuth makes Nancy Drew look like a crybaby. Want a code cracked? A cool head in a deadly crisis? A bunch of brilliant gadgets? Forget about James Bond. You need thirteen-year-old special agent Ruby Redfort and her sidekick butler, Hitch. This gutsy crime-buster doesn't do sweet and nice. But she does scare criminals silly. Want to know more? Of course you do, bozo. So read her books!
Witty and thrilling crime capers by star author Lauren Child
A marvellous send-up of the hard-boiled detective genre
Lauren is the creator of Clarice Bean and Charlie & Lola
She has won the Smarties Prize and Red House Award
Who's reading this?
We want to read this book