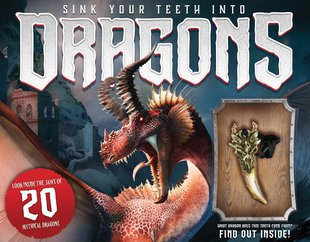 Look inside
Sink Your Teeth into Dragons
Are dragons real? Yep – and the proof is right here: a fact book with your own lucky dragon-tooth charm necklace. But in yet another important way, this guide to dragons isn't like any other. It's all about their fangs – a book with bite! If you were a dragon dentist, what would you see when you looked in their mouths? Which dragon species has the meanest bite? Which is best at breathing fire? Oh: and one more question: where else can you buy a book that comes with an actual dragon-fang necklace? Answer? Nowhere. So buy this one.
Includes your own fantastic dragon fang necklace!
Unique look at dragons with a focus on their teeth
Compare the characteristics of 20 dragon species
Incredible colour profiles with maps and fact files
Who's reading this?
We want to read this book