Gruffalo Chorus Game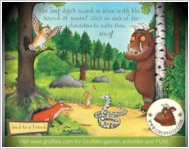 Use this resource
Play now this will open in a new browser window
Click on the animals to join in with the Gruffalo song. Make sure your sound is switched on!
Help
You may need Flash
To use this resource you need Adobe Flash installed on your computer. To get the latest player:
You may need to be an Administrator to install this.