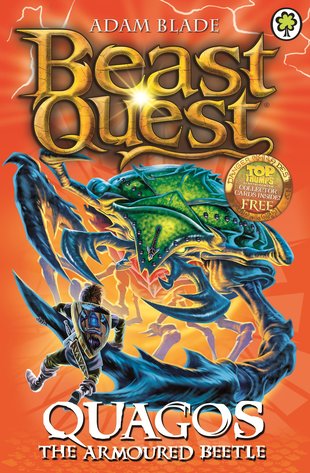 Look inside
Beast Quest Series 15 #86: Quagos the Armoured Beetle
Do bugs make your skin crawl? Perhaps the very thought leaves you feeling itchy all over, like you can't stop scratching. Now confront your living nightmare: Quagos. Six scrabbly legs. Massive pincers. Horrible waggly feelers. Very hungry. Bigger than a giant, worst of all. Only one of the Crown Jewels is still missing, but wicked Velmal has saved the yuckiest Beast for last. Tom must wrestle the precious sceptre from this colossal beetle. It's going to be his biggest battle of all…
Fun Stuff
Activities
Colour this beastly picture of Trillion and make him roar!

Your chance to create your own Beast Quest character and story!

Colour in and cut out this doorhanger fit for a noble warrior!

Make your own Claw the Giant Monkey mask.

Your quest is to spot the differences between the pictures of the Beast Quest heroes!

Can you find all the words and help Tom do battle with the beasts?
Who's reading this?
We want to read this book