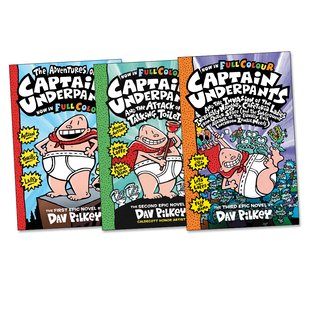 Look inside
Captain Underpants Colour Pack x 3
Tra-la-la! Our hero is now in technicolour. Saving the world just got brighter. Forget flashy look-at-me superheroes who wear shiny lycra pants over their trousers. Captain Underpants is so heroic he doesn't even need trousers. The world's ONLY superhero in massive white cotton Y-fronts. So there. Now his massive adventures are in super-duper full colour where the only white thing around is (you guessed it) his pants. Saving the world one wedgie at at time. Naughty villains? Ouch!
New colour editions of Captain Underpants favourites
Over 70 million Captain Underpants books sold
Winner of a Disney Adventures Kids' Choice Award
Brilliant mix of funny writing and cartoon pictures
Fun Stuff
Who's reading this?