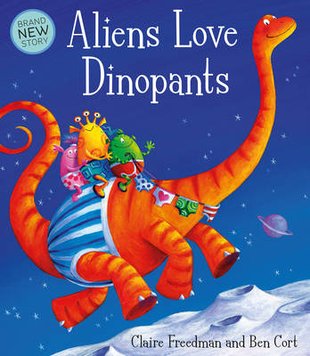 Look inside
Aliens Love Dinopants
Aliens love pants! Dinosaurs love pants! But do aliens and dinos love each other? A funny rhyme about pants – and sharing! The bad news: the alien have crash-landed in the jungle. BUMP. The good news: they've just found the biggest stash of pants EVER! The aliens can't wait to party in all these nifty pants. But then their prehistoric owners show up! Will the aliens and dinos fight it out? Or will they buddy up and have a cool adventure in space? A glance at the cover picture might give you a clue. Read this silly rhyme for the whole story!
#crown-jewels
Seventh in this brilliant and bestselling series
A wacky rhyme to make children laugh out loud
Ben Cort's exuberant pictures bring every page to life
Aliens Love Underpants won a Richard and Judy Award
Who's reading this?
We want to read this book