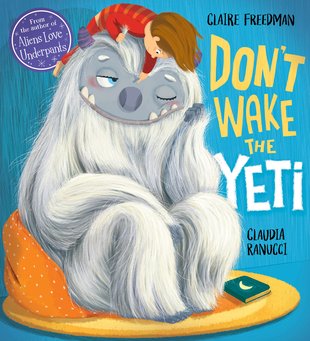 Look inside
Don't Wake the Yeti!
Okay, so you've giggled at Claire Freedman's rhymes about aliens in underpants. But how about something new – like a yeti in your bed? Don't panic! Yetis are friendly, cuddly critters who make great buddies, even if they're a little bit stinky. This book will show you how to feed your yeti (grab a napkin), and how to give him a bath. Tip: add ice! Plus: what should you do if you want to take your yeti to school? The perfect guide for any kid with a yeti in their home. Big giggles and big hugs with a VERY big friend!
By the bestselling author of Aliens Love Underpants
A heartwarming rhyme about a very unusual friendship
Glorious combination of suspense, giggles and cuddles
Witty yet gentle pictures perfectly capture the mood
#fiction-0-7-reading-collections
#sum-18-ie
Fun Stuff
Activities
Don't Wake the Yeti Activity Sheet

Don't Wake the Yeti Drawing Activity Sheet
Who's reading this?