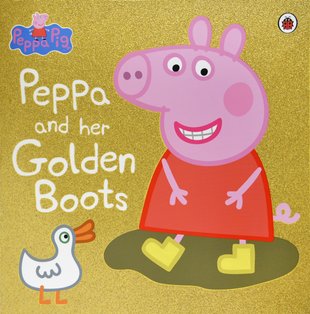 Look inside
Peppa Pig: Peppa and Her Golden Boots
Listen up, kids! When you have things that are truly amazing, like Peppa's golden boots, other people might want to try them. Be nice and share. But if you're the person who wants to try, never forget: always ask first! Peppa has the best ever shiny golden boots for the Puddle Jump contest. Or at least – she did have! Mrs Duck has taken a liking to Peppa's special boots and run away with them. Oh dear! The big Puddle Jump contest is about to start. Will Peppa find her boots in time? And can she jump all the way to the moon?
A funny story based on Peppa's popular 2015 short film
Bright and amusing book ideal for younger children
Delightful colour pictures of Peppa and her friends
Simple message about respecting people's things
#film-tv-nov16
Fun Stuff
Activities
Everyone loves to jump in muddy puddles, especially Peppa and her family. Use your brightest colours!
Who's reading this?