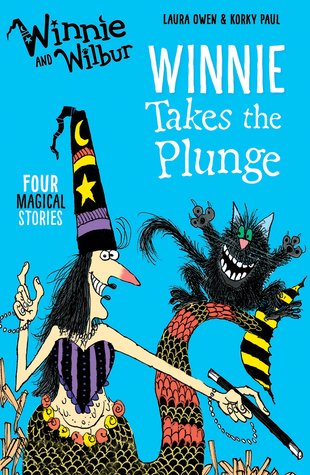 Look inside
Winnie and Wilbur: Winnie Takes the Plunge
Winnie's the wackiest witch you'll ever meet, and she's not afraid to take the plunge. It's just a shame that poor Wilbur the cat isn't quite so keen on getting wet! In this set of four funny short stories, Winnie meets some tiny mice with a hidden talent. Will they bring music to her ears? And what will happen when she accidentally turns a snowman into the rather scary 'abominable' variety? Or when she gets flushed down her loo and is trapped by a merman under the ocean waves?
Four easy-read stories from this bestselling series
Perfect for growing fans of Winnie's picture books
Exuberant black-and-white artwork by Korky Paul
Great for solo reading or as shared bedtime stories
Fun Stuff
Activities
Here's a funny picture of Winnie the Witch for you to colour in.