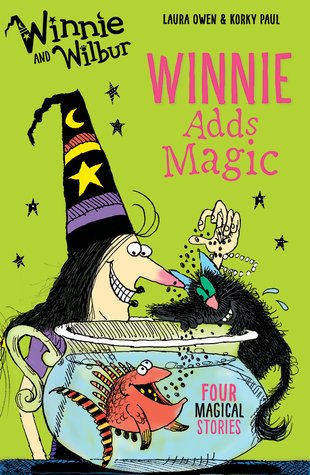 Look inside
Winnie and Wilbur: Winnie Adds Magic
Winnie as you love her best. The title says it all. Winnie the witch always enchants us. Now these four funny stories show why we treasure her so much. Acting in a school pantomime. Turning a garden into a farm. Holding a treasure hunt. Even sitting through (yawn) a maths lesson. Maybe you've done all those things yourself. But nobody has ever done them with as many laughs, mishaps, bangs and crashes as Winnie and her furry sidekick, Wilbur. True comedy stars!
Easy reader starring a best-loved children's character
Four short stories for children to read alone or share
Perfect for fans of Winnie's bestselling picture books
Exuberant black-and-white artwork by Korky Paul
Fun Stuff
Activities
Here's a funny picture of Winnie the Witch for you to colour in.
Who's reading this?
We want to read this book