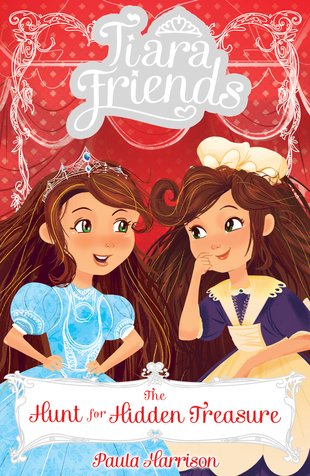 Look inside
Tiara Friends: The Hunt for Hidden Treasure
Imagine having a best buddy who looks just like you! When Millie and Jess swap their outfits, they fool everyone! And the fact that Millie's a princess and Jess is a maid just makes their secret game even more exciting. Now Millie can have some wild fun without having to be perfectly proper. And Jess can get pampered and wear seriously fabulous frocks! But when a priceless painting is stolen from Peveril Palace, these lookalikes have to turn detective. Can they use their awesome swapsie skills to solve the crime?
A magical royal mystery for fans of Secret Kingdom
Brilliantly exciting plot with cool detective theme
Paula Harrison is the author of The Rescue Princesses
She is a bestselling author with over a million books sold
#gift-guide-xd-stocking-fillers
#isbc-handpicked
Fun Stuff
Activities
Tiara Friends Cupcake Recipe

Tiara Friends Decorate a Cake

Tiara Friends Decorate a Gown

Tiara Friends Dot-to-Dot Activity

Tiara Friends Ice Pops Recipe

Tiara Friends Maze Puzzle

Tiara Friends Maze (Silk Dress)

Tiara Friends Millie or Jess Quiz

Tiara Friends Puzzle Activity

Tiara Friends Spot the Difference

Tiara Friends Spot the Difference 2

Tiara Friends Word Search
Who's reading this?
We want to read this book