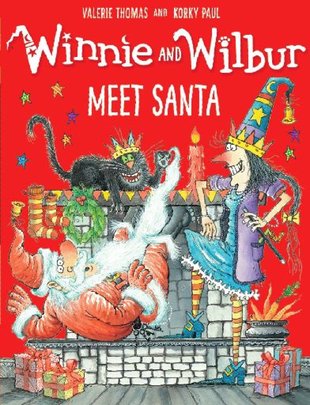 Look inside
Winnie and Wilbur Meet Santa
It's Christmas Eve. Hurray! Winnie and Wilbur have written to Santa, and now they've gone to bed. Until – CRASH! BANG! HELP! What's that? Santa is stuck in the chimney! Who will help him out? No worries: Winnie is ready to save the day with a touch of magic. But now Santa is running late. Winnie and Wilbur must help him deliver his presents! But although riding in a sleigh is great, they're terrible at sneaking into houses. (Listen out for them!) Maybe a magic spell could help…?
A jolly Christmas delight from this magical series
The first series book won the Red House Award
A funny festive caper with a perfect happy ending
Korky Paul's exuberant art is full of snowy wonder
#starbuys-102016
#christmas-nov16
#4-7years-12days
#fn-top12
#christmas-1212
Fun Stuff
Activities
Here's a funny picture of Winnie the Witch for you to colour in.
Who's reading this?