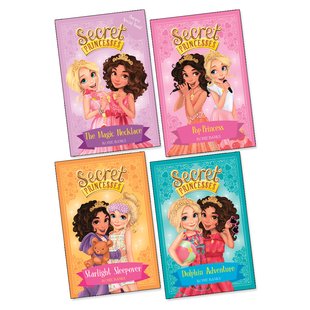 Look inside
Secret Princesses Pack x 4
It's by the author of Secret Kingdom and it's all about royal best friends, with a twinking of magic and a dash of adventure. A dream come true, basically! Charlotte and Mia live far apart, but they're as close as can be. Why? Thanks to their magical necklaces! They each have a special necklace that whisks them away to Wishing Star Palace, where they go on missions with the Secret Princesses. These magical princesses make wishes come true. Best of all, Charlotte and Mia are training to join them. There is an obstacle: mean Princess Poison. But she's reckoned without the power of true best friends!
A dreamy new series by the author of Secret Kingdom
Magical stories of wishes, adventure and friendship
Set in the enchanted world of Wishing Star Palace
Gorgeous choice for older fans of Secret Kingdom
Who's reading this?
We want to read this book