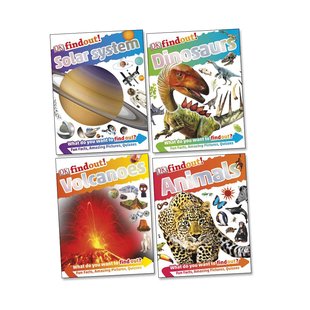 Look inside
DK Findout! Pack x 4
What do YOU love? The DK Findout series has the expert lowdown on all your favourite topics. It's packed with exciting colour photos, quizzes and fun facts for school. These aren't your average fact books. The punchy graphic layout makes them a whole lot better-looking. But then, nothing about them is average. They're all about giving you more! Fact boxes, quotes, diagrams, Q&As, cool visuals: it's kind of like surfing the web, but more focused. Amazing to look at. Bursting with interest. Perfect for building your knowledge.
Exciting facts beautifully presented for curious kids
Perfect for general interest and for school projects
Full of amazing photos, infographics and diagrams
Highly interactive reading with quizzes and Q&As
#gift-guide-mini-animals
#gift-guide-mini-facts
Who's reading this?
We want to read this book