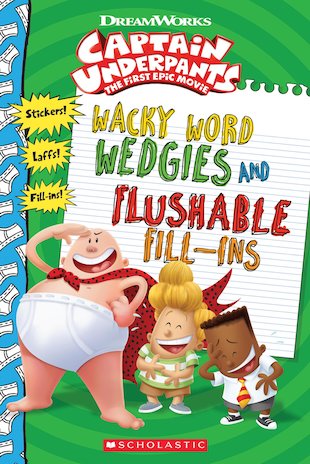 Look inside
Captain Underpants: Wacky Word Wedgies and Flushable Fill-ins (Captain Underpants Movie)
Who said only George and Harold can draw Captain Underpants? This book is YOUR chance to doodle your own daft adventures! Just grab a pencil, gear up your brain and give it some action, thrills and laffs! Inside you'll find over a dozen wacky fill-in stories, plus tra-la-la-riffic stickers. What heroic deeds will Captain Underpants perform? And what sticky end will YOU devise for the evil Dr Diaper?
Doodle your own super-silly Captain Underpants stories
Includes stickers and wacky fill-in adventures to complete
Hilarious writing/drawing tips from Harold and George
All your favourite characters from the brilliant film
#screen-gaming-17
#gift-guide-xd-stocking-fillers
#gift-guide-xd-film-tv
#gift-guide-xd-activities
#film-tv-november-17
Fun Stuff
Who's reading this?