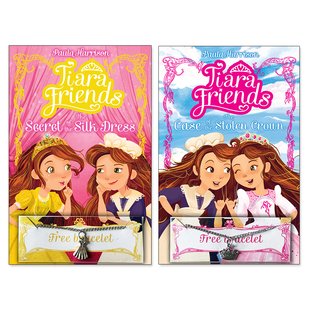 Look inside
Tiara Friends Pair
One fairytale palace, two besties – and two sparkly mysteries to solve! Every maid dreams of being a royal princess. But at times, every princess dreams of being a maid. (A welcome break from tea parties and balls.) So it's lucky that Millie and Jess look just like twins – except that one's a maid, and the other's a princess! These best friends love to swap dresses, change places and have big adventures at Peveril Palace. Everyone's fooled! Can they use their lookalike skills to solve two baffling palace mysteries?
A fairytale new series for fans of Secret Kingdom!
Magical tales of mystery and friendship in a royal palace
Paula Harrison is the author of The Rescue Princesses
She is a bestselling author with over a million books sold
Fun Stuff
Activities
Tiara Friends Cupcake Recipe

Tiara Friends Decorate a Cake

Tiara Friends Decorate a Gown

Tiara Friends Dot-to-Dot Activity

Tiara Friends Ice Pops Recipe

Tiara Friends Maze Puzzle

Tiara Friends Maze (Silk Dress)

Tiara Friends Millie or Jess Quiz

Tiara Friends Puzzle Activity

Tiara Friends Spot the Difference

Tiara Friends Spot the Difference 2

Tiara Friends Word Search
Who's reading this?