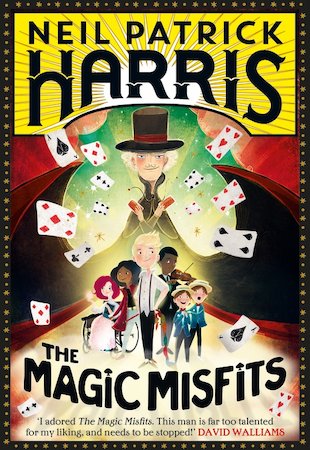 Look inside
The Magic Misfits
A thrilling story with REAL magic tricks to try! Psst: don't tell anyone! This isn't just a book. It's a treasure trove of secrets, ciphers, codes and tricks to help you make your own magic. Keep your eyes peeled for clues! Carter is a kid on the run. But he's not just any kid. He's a street magician with heaps of cool tricks up his sleeve. Still, he never thinks he'll pull off the trick of finding new friends (and real magic) in a sleepy New England town. When he does, he's happier than he's ever been. That is, until greedy crook B.B. Bosso shows up. Will Carter find a way to save his new buddies – and his town – from this bad guy's clutches?
First in a thrilling new series full of magic and danger
Written by top actor and magician Neil Patrick Harris
New York Times bestseller and

USA

Today bestseller
Drama, intrigue, humour and real magic tricks to try!
"I read this book with excitement, delight, and the increasing suspicion that it was going to make me disappear." Lemony Snicket
"I adored Magic Misfits. This man is far too talented for my liking, and needs to be stopped!" David Walliams