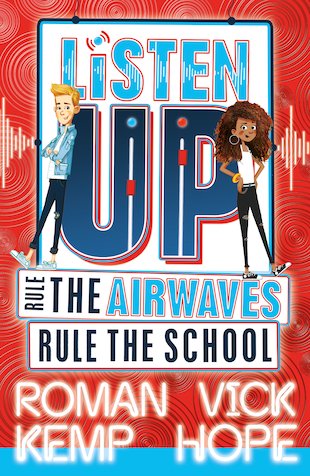 Look inside
Listen Up: Rule the Airwaves, Rule the School
It's a battle of the airwaves! Who'll rule the radio – and the school? A funny tale of radio rivalry by two real-life stars. At school, Arthur and Grace reign supreme. They're the cool kids. They're also the radio kids, running the school's top listen-in shows. This means that as well as being popular, Grace and Arthur are bitter rivals. So when a mighty storm sparks a blackout during a school chess tournament, it's war! Who'll be first to broadcast the story? But the storm's only the half of it. In the chaos, a trophy has gone missing. Has a thief struck? Now the radio rivals are caught up in a race to solve the mystery – and be first to report on it all!
A witty illustrated mystery by two real-life radio stars
Roman Kemp and Vick Hope are Capital Breakfast hosts
Their London show has almost a million weekly listeners
A must for fans of the authors, Tom Gates and Kid Normal
Who's reading this?
We want to read this book