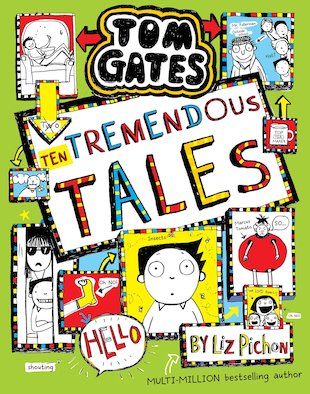 Look inside
Tom Gates #18: Ten Tremendous Tales
Tall tales! Funny tales! Wagging tails? Cheeky stories starring Tom, his family, friends and foes. Welcome to a bonanza of fun amid the BRILLIANT MADNESS that is the tremendous world of Tom Gates. This time round, Tom isn't sticking at one story. Nope – he's going to tell you ten of them! There will be: a delicious chicken pie; getting stuck in a lift with Delia; a teacher swap at school and some tiny ants in tiny pants. But will Rooster the dog eat Tom's homework? Oh, and what will happen in the awesome adventures of WAFER BOY?
Ten hilarious illustrated stories from Tom's hit series
An extravaganza of doodles, jokes and cheeky silliness
Tom's first book won the 2011 Roald Dahl Funny Prize
Hugely popular series with over 4 million copies sold
Who's reading this?
We want to read this book