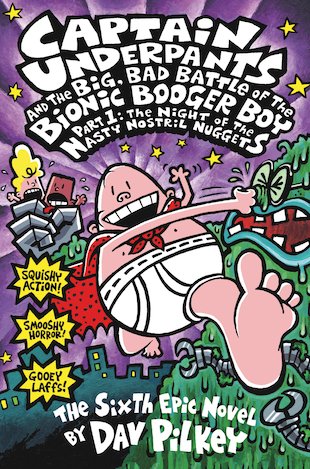 Look inside
Captain Underpants #6: The Big, Bad Battle of the Bionic Booger Boy Part One - The Night of the Nasty Nostril Nuggets
George, Harold and Captain Underpants are back in another icky adventure! When class boffin Melvin Sneedly goes too far with his latest invention, the Bionic Booger Boy comes to sticky, snotty, bad-tempered life. The scene is set for the terrible Night of the Nasty Nostril Nuggets. Will George and Harold survive – or snot?
#reading-lists-7
Fun Stuff
Activities
Wedgie power! A fun Captain Underpants picture to colour.

Happy Underwear Day! A Captain Underpants pic for you to colour!

Pants, wedgies and toilets… a fun Captain Underpants crossword for you!

A great picture of Captain Underpants to colour and keep.