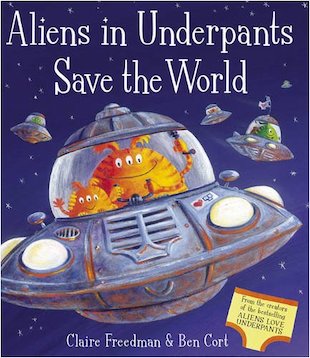 Look inside
Aliens in Underpants Save the World
Aliens love underpants! It's lucky that they do. For pants helped save our universe. Sounds crazy but it's true!
Those cheeky aliens are back – and now they're on a mission to save the world! A gigantic meteorite is heading for Planet Earth, threatening to wipe out all the people… and their pants. Can the brave aliens come up with a plan so fantastic that they save the universe with knicker elastic? More deliciously daft rhyming fun from an award-winning duo. What's funnier than pants? Aliens in pants – and here they come!
"A wacky picture book that's perfect for children on the cusp of reading for themselves. The story is great fun and Ben Cort's illustrations are excellent." Bookbag
Who's reading this?
We want to read this book