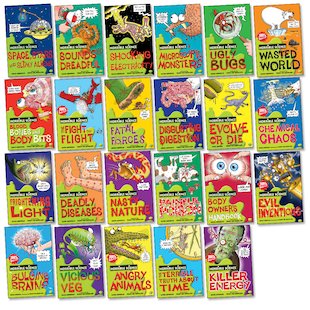 Look inside
Horrible Science Classic Pack x 23
Science that makes you want to learn! Science with the squishy bits left in! We all know how boring science books can be – but why put up with boring science when you can have Horrible Science? Peer inside your bloody body! Cook up a chemical chaos! Hunt for ugly bugs! Taste the world's most potent poisons! These books are stuffed with yucky facts to disgust and amaze you. And now, at a microscopic price, we bring you THE ENTIRE SICKENING SERIES. So go on! Grab the whole horrible lot!
Science made funny, gross and brilliantly freaky
Over 4 million Horrible Science books sold in the UK
Jokes, cartoons, quizzes and incredibly weird facts
#reading-lists-9
Who's reading this?
We want to read this book