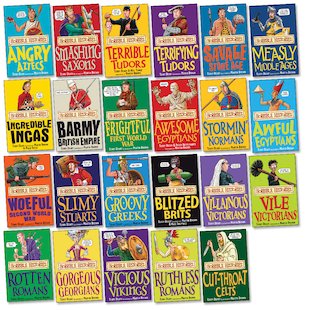 Look inside
Horrible Histories Pack x 23
No more nice-guy nonsense about history. It's time to learn it the horrible way! Yes – it's horribly boring when you learn it in the classroom. But with all the nasty bits left in, it's historically funny! Laughs, disasters, disgusting jokes: you love this series so much you've bought over 25 million copies. How's that for a horrible fact?
#gift-packs
#reading-lists-9
Fun Stuff
Activities
Celebrate 20 years of Horrible Histories with bunting for you bedroom, classroom…or another room!

Here's a putrid pirate for you to colour!

Download this Knight wallpaper for your PC.

Who's a pretty boy then? A swashbuckling download for your computer.

Follow the puzzle to find out what each of the knights won in their tournament.

Download this soldier wallpaper for your computer.

Viking wallpaper for your PC.

Download free Horrible Histories wallpaper!

A fiendish Greek wordsearch!

History with all the nasty bits left in! Our top tips for what to read next.

Can you spot the eight differences?

Can you find all of the words in this Horrible Histories puzzle?
Who's reading this?
We want to read this book