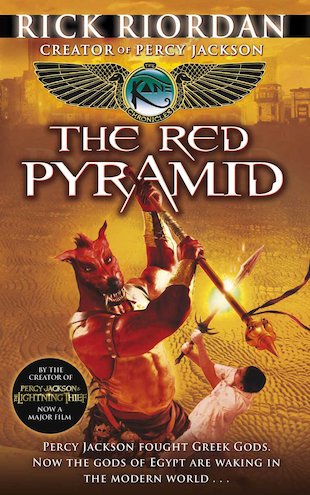 Look inside
The Kane Chronicles: The Red Pyramid
Carter and Sadie barely know each other, let alone their father, the brilliant Egyptologist Dr Julius Kane. But one night, their father brings them together at the British Museum, promising a 'research experiment' that will set things right for the family. Until his plans go horribly wrong. An explosion unleashes a cruel and ancient evil – the Egyptian deity Set, the god of chaos and the night, who banishes their father into oblivion. Alone and fleeing for their lives, Carter and Sadie must embark on a dangerous quest, racing from Cairo and Paris to the American Southwest in a desperate attempt to save their father – and their world. Rip-roaring adventure steeped in Ancient Egyptian mythology from Rick Riordan, the author of the Percy Jackson books.
Fun Stuff
Quizzes
Activities
Read the first chapter of The Throne of Fire now!

_The Red_Pyramid is full of weird and wonderful characters. Draw one of them here!

How well do you know the Ancient Egyptian gods? Use the characters from The Red Pyramid to help you in this quiz.

Use the alphabet to decipher some simple puzzles.

Here's an A-Z alphabet for Ancient Egyptian hieroglyphics.

Ancient Egyptians loved playing board games. Senet is a simple one for you to try!

Can you find all the words connected with Ancient Egypt and The Red Pyramid?

Download some cool Red Pyramid wallpaper here!

Download our free Red Pyramid wallpaper.

Free Red Pyramid wallpaper for your computer!