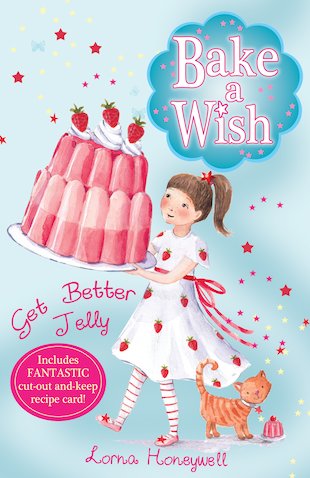 Look inside
Bake a Wish #3: Get Better Jelly
Oh dear! Archie's not feeling well at all. His throat is scratchy and his head hurts. He needs a recipe to come to the rescue! Lily and Grandma find the perfect one in the 'magical' baking jar – Get Better Jelly, ideal for anyone who's feeling poorly. Soon Archie has perked up no end; in fact, he's even well enough to cause trouble!
This oh-so-sweet story includes a scrumptious cut-out recipe card for baking your own feel-good treats!
Fun Stuff
Activities
Need to feel confident? These Can-Do Crispies should do the trick!

Eat Feel Fearless Flapjacks and you won't be scared anymore!

Cheer someone up with Feel Good Fairy Cakes!

Need a pick-me-up? Try Get-Better Jelly!
Who's reading this?