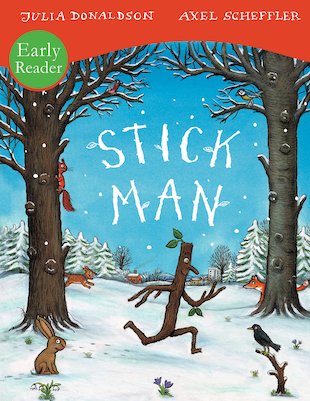 Look inside
Stick Man (Early Reader)
Read Stick Man's exciting story all by yourself. Race to the end of the book to help him get home! When Stick Man is snatched up by a dog one frosty morning, his whole world turns upside down. Soon he's being tossed into the river, woven into a swan's nest and used as a flag mast on a sandcastle. Oh dear! As summer turns into winter, Stick Man is lost and frozen. Will he ever get back home to his Family Tree? Find out in this fantastic easy-read version of a snowy rhyme that everybody loves!
A new easy-read edition with a clearer font and layout
All the original text and artwork from this snowy classic
A bestselling rhyme from the UK's top picture book team
The perfect way to build confidence with a familiar story
#starting-to-read-on-your-own
Fun Stuff
Activities
Join the dots to see where Stick Man is stuck!

Can you spot the five differences between these two pictures?