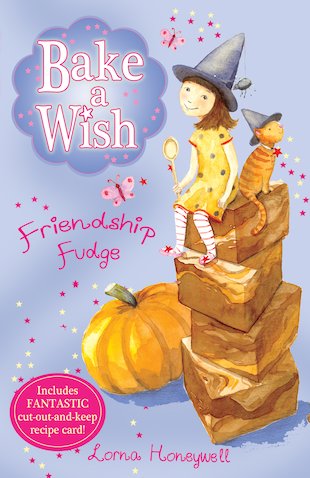 Look inside
Bake a Wish #6: Friendship Fudge
When Lily thinks she's not been invited to her best friend's Halloween party, she gets very upset. Luckily, there's 'magical' baking fun to be had in Grandma's kitchen, where any problem can be solved! Grandma knows it's all a misunderstanding, and what's more, the special baking jar has just the right recipe to fix things. Before long, everybody is happy – tucking into luscious Friendship Fudge! This scrumptious story includes a collectable, cut-out-and-keep recipe card so that YOU can bake just like Lily and Archie.
Fun Stuff
Activities
Need to feel confident? These Can-Do Crispies should do the trick!

Eat Feel Fearless Flapjacks and you won't be scared anymore!

Cheer someone up with Feel Good Fairy Cakes!

Need a pick-me-up? Try Get-Better Jelly!