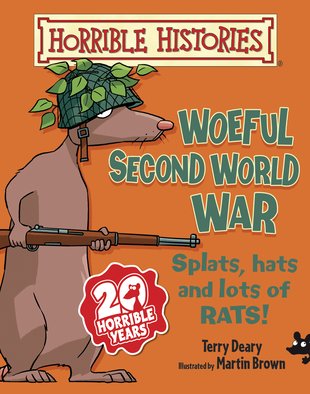 Look inside
Horrible Histories: Woeful Second World War
If you ever hear old folk moaning on about the world today, just remind them how woeful things were in World War II. When Hitler's horrid army were goose-stepping round the globe, nearly everything in Europe was totally AWFUL! What with doodlebug bombs dropping out of the sky and sweet rationing driving kids and grown-ups mad, life in the Second World War was truly wicked. From snow-bound cities under siege to fly-infested jungle trenches, and from maggoty meals to killer knickers, discover all the dire details!
This reformatted new edition of a Horrible Histories favourite is fatter, funnier and more frightful than ever. A chunkier format with less text and more space for pictures makes it the perfect place to get your first taste of laughter, blood and gore!
Fun Stuff
Activities
Can you find ten rotten rats in this picture?

Download this soldier wallpaper for your computer.

Download free Horrible Histories wallpaper!

Can you find all the words in this Terrible Tudors puzzle?
Who's reading this?