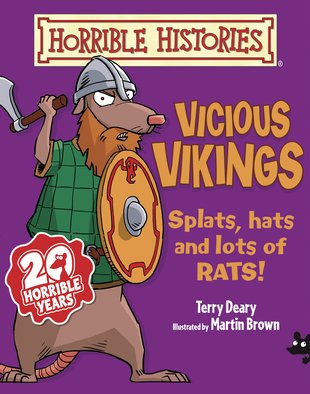 Look inside
Horrible Histories: Vicious Vikings
The Vikings were fearsome seafaring warriors with big boats, big shields and enormous ginger beards. This much you probably know. But do you know why Vikings had names like Fat-thighs, Oaf and Stinking? Or which Viking god dressed up as a woman? This book gives you all the frightful facts about the vengeful Vikings and their savage Saxon enemies. It's a story of cruel kings, beastly battles, terrible torture and messy murders. Eeek!
This reformatted new edition of a Horrible Histories favourite is fatter, funnier and more frightful than ever. A chunkier format with less text and more space for pictures makes it the perfect place to get your first taste of laughter, blood and gore!
#horriblehistories-shopall
#horriblehistories-ancienttimes
Fun Stuff
Activities
Can you find ten rotten rats in this picture?

Viking wallpaper for your PC.

Download free Horrible Histories wallpaper!

Can you find all the words in this Terrible Tudors puzzle?
Who's reading this?