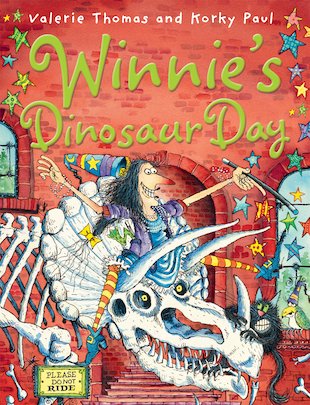 Look inside
Winnie's Dinosaur Day
Winnie and Wilbur love looking at dinosaur bones in the museum. But Winnie would love to see a real dinosaur too – although scaredy-cat Wilbur isn't so sure! When the museum holds a competition to draw a Triceratops, Winnie has a wonderful idea. She waves her magic wand and zooms off with Wilbur to the time when dinosaurs roamed the earth. Once they arrive in the prehistoric swamp, it's not long before the pair spot a Triceratops munching the greenery. Pencils and sketchbook in hand, Winnie tries to capture him on paper. But what will happen when she accidentally launches the startled Triceratops back into the future, crash-landing in the museum courtyard? And will Wilbur and the dinosaur ever become friends?
An EXCLUSIVE paperback edition of Winnie's brand new dino-tastic adventure!
Fun Stuff
Activities
Create your own magical Winnie the Witch hat!

Use your imagination to create a magical Wilbur headdress!

Brighten up a Winnie the Witch party with your very own bunting!

Here's a funny picture of Winnie the Witch for you to colour in.

Join the dots to make a great picture of Winnie's cat, Wilbur.

Can you find all Winnie's witchy words?

Brighten up your computer desktop with a magical Winnie the Witch wallpaper.