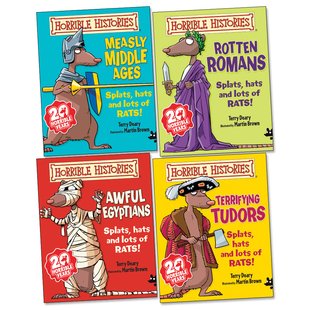 Look inside
Horrible Histories Pack (Junior Editions)
Newer! Fatter! Funnier! Celebrating 20 years of the classic series, these easy-read editions give new initiates a first taste of laughter, blood and gore. Featuring a chunkier format with less text and more space for pictures, these revamped editions will infect younger fans with the contagious Horrible Histories bug. There are jokes, pictures and cartoons galore in the roomy new layout. Plus all the silly and nasty bits that die-hard fans demand. Want to squeal at some truly horrible history? Try the series that's brought you the gory bits since 1993.
Fun Stuff
Activities
Here's a putrid pirate for you to colour!

Download this Knight wallpaper for your PC.

Who's a pretty boy then? A swashbuckling download for your computer.

Can you find ten rotten rats in this picture?

Follow the puzzle to find out what each of the knights won in their tournament.

Download this soldier wallpaper for your computer.

Viking wallpaper for your PC.

Download free Horrible Histories wallpaper!

Can you find all the words in this Terrible Tudors puzzle?

A fiendish Greek wordsearch!
Who's reading this?