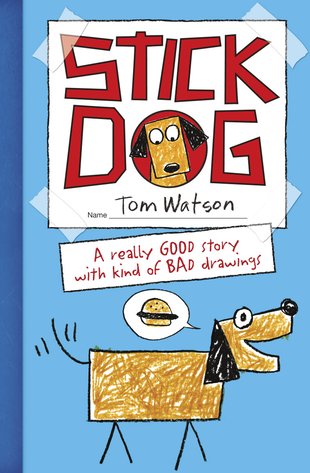 Look inside
Stick Dog
Meet Stick Dog – a new breed of hero! He's a badly drawn dog. His best friend is called Poo-Poo. Can things get any more ridiculous? Yes! Stick Dog and his gang of hounds – Mutt, Stripes, Karen and Poo-Poo – have caught the scent of hamburgers. What hungry stray could resist that meaty waft? All they have to do is follow the smell, find the barbecue and gobble up the yummy treats. But it's not as easy as it sounds. The dogs need a master plan, and they're not short of ideas. They're just short of ideas that aren't idiotic, dangerous or suicidally daft. As they go on the chase for those juicy burgers, super-silly antics are in store!
With hilarious artwork and a winsome four-legged hero, the tale of Stick Dog's quest for a delicious dinner is sure to be Top Dog!
Fun Stuff
Activities
Here's Stick Dog for you to colour!

Here's Stick Dog's best friend Poo-Poo for you to colour.
Who's reading this?