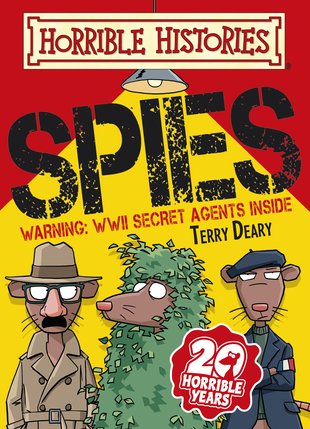 Look inside
Horrible Histories Handbooks: Spies
The blood-curdling Horrible lowdown on how to survive as the ultimate secret agent. Become a super-spy – and don't die! Discover the sneaky strategies which kept spies alive in World War II (at least, the lucky ones)! Learn to crack cunning codes, use great gadgets and tail suspects in daft disguises. Sneak off with secret information – and cover your tracks so nobody ever guesses it was you! It's your chance to become a spy so super that you'll even make James Bond jealous. But be warned! It's not all a big game, you know. This is a Horrible Histories book, after all … with heaps of nasty bits!
Fun Stuff
Activities
Here's a putrid pirate for you to colour!

Can you find ten rotten rats in this picture?

Download free Horrible Histories wallpaper!

Can you find all the words in this Terrible Tudors puzzle?
Who's reading this?
We want to read this book