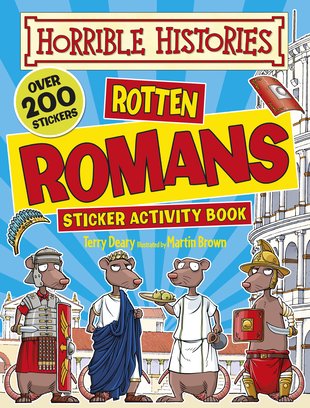 Look inside
Horrible Histories Sticker Activity Book: Rotten Romans
Can YOU survive being a Roman for a day? And endure thousands of killer laughs? Then you're in the right place. WARNING: to enjoy this book you probably have to be at least a bit insane. It's got savage stickers, crazy activities and rotten Roman facts. (The nastier the better.) But beware: there's no safe place to hide. You'll be stuck right in the danger zone. Evil emperors. Scary gladiators. Terrible toilets. Great if you're a rotten Roman. But if you're a wimpy kid, go straight home.
#horriblehistories-shopall
#horriblehistories-ancienttimes
Fun Stuff
Activities
Download free Horrible Histories wallpaper!

Can you find all the words in this Terrible Tudors puzzle?
Who's reading this?