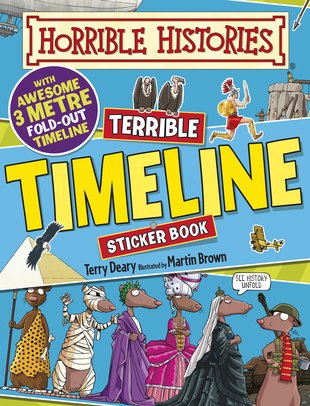 Look inside
Horrible Histories Sticker Activity Book: Terrible Timeline
A three metre timeline, over 200 stickers and your chance to empty a Tudor toilet. Gross! But oh so interesting! What time is it? Time for yucky madness with Terry Deary and Martin Brown, the kings of historical bleuggh. What have they brought you this time? Well – only a seriously immense timeline packed with putrid pictures, sickening stickers and facts that'll make you want to laugh/heave. Definitely the longest ever guide to horrid history, from the savage Stone Age to the troubled today. Three metres of nasty knights, ruthless Romans and storming stickers. See history unfold!
Huge three-metre double-sided timeline
Over 200 colourful stickers to have fun with
Heaps of horrid facts from the Stone Age onwards
Funny and colourful way to explore history
#back-to-school-top-10
#activitybooks-26052016
#activity-26052016
#horriblehistories-shopall
Fun Stuff
Activities
Who's a pretty boy then? A swashbuckling download for your computer.

Download free Horrible Histories wallpaper!

Can you find all the words in this Terrible Tudors puzzle?
Who's reading this?