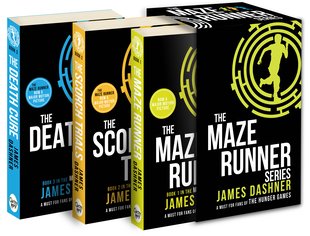 Look inside
Maze Runner Series: Classic Box Set
Survival. Conspiracy. Plague. Environmental disaster. The planet's biggest buzz. Top of our dystopian hotlist. Ever woken up somewhere weird with no idea how you got there? Thank God your name's not Thomas. (Unless it is, of course.) When the doors of the lift crank open, the only thing Thomas remembers is his first name. He's trapped with several other boys at the centre of a huge and baffling stone maze. Who is he? Why is he there? What are the savage cyborg beasts who stalk the maze at night? Read this NOW. Don't be the only one who doesn't know how to kill a Griever.
This series contains mature content more suitable for older readers.
#gift-packs
#film-and-television
#reading-lists-13
#heroes-villains
#tile-heroes-villains-teen
#film-tv-nov16
Who's reading this?
We want to read this book