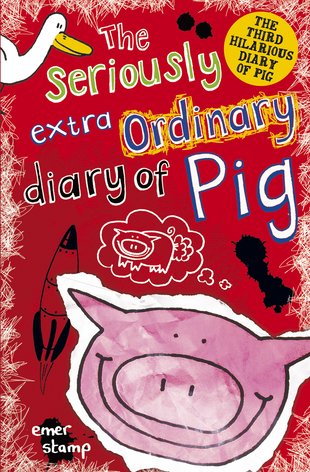 Look inside
Pig #3: The Seriously Extraordinary Diary of Pig
BIG NEW STORY ABOUT PIG. Porky giggles, rude parps, stinky slops and funny quest to do. Pig, Duck, Cow and the woolly sheeps is far away from the Farm and those lovely Vegetarian Farmers. How is they going to get back to their cosy home again? Maybe there might be rude bum trumpets, clever ideas and yummy veggies. There definitely IS tummy tickles, silly chuckles and funny pictures. Does you wonder why is we talking Pig language? Pig is OUR HERO, is why.
Great if you like Chicken Run or Wallace and Gromit
Silly chuckles with a unique voice and hilarious cartoons
Emer Stamp works for a top London advertising agency
She helped make the 2011 John Lewis Christmas advert
#bookadventure2016-7to9
#dayout-reads2016
#bookadventurers-010716
#pig-scb-16
Who's reading this?
We want to read this book