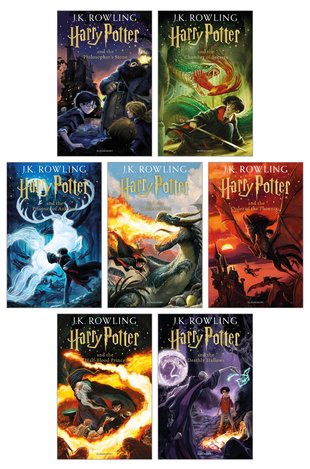 Look inside
Harry Potter Pack x 7
These storming new covers pack more power than Lord Voldemort's cannon-blast curses. Absolutely mythic. Boy wizard Harry Potter – 'the boy who lived' – is one of our all-time fictional heroes. His bestselling story is a legend in its own right: a magical blend of hi-jinks and fantasy. And it's never looked mightier. From Harry's game-changing first day at Hogwarts to his final terrifying battle against the Dark Lord, now you can savour every moment of the magic. And make your bookshelves look great at the same time.
One of the world's best-loved and bestselling fantasies
Now with beautiful new cover artwork by Jonny Duddle
A coming-of-age story set in a wonderful magical world
Grows in complexity and emotional depth with each book
#gift-packs
#film-and-television
#strong-female-characters
#halloween
#heroes-villains
#tile-heroes-villains-teen
#magical-spooky
#harrypotter-010816
#bookpacks-0816
#essential-ya-092016
#film-tv-nov16
#fantasy-reads-wbd
#games-films-wbd
#mothers-day-17
#screen-gaming-17
#keyauthors-reading-collections
#gift-guide-xd-film-tv
#gift-guide-xd-magic-adventure
#gift-guide-xd-bestsellers
#gift-guide-teen-tv-film
#gift-guide-teen-fantasy-adventure
#gift-guide-teen-bestsellers
#film-tv-november-17
#isbc-handpicked
#christmas-on-tv-2017
#summer-18
#sum-18
#sum-18-ie
#fathers-day-2018
Who's reading this?
We want to read this book