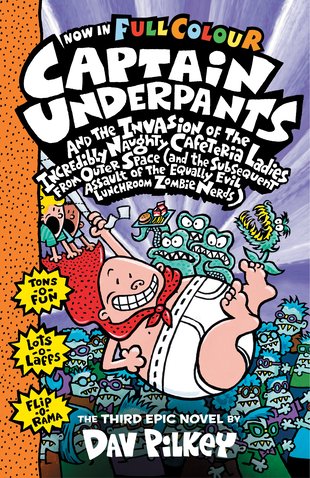 Look inside
Captain Underpants #3: Captain Underpants and the Invasion of the Incredibly Naughty Cafeteria Ladies from Outer Space
IN COLOUR! TOTALLY DISGUSTING! Zombies. School dinners. Big undies. Death-defying battles. Are you feeling strong? Wearing clean pants? Got tough guts? Then hold on to your lunch! There's something weird about the three new lunch ladies at George and Harold's school. Not to mention their new menu of Zombie-Nerd Milkshakes and Boston Baked Boogers. That's because they're INCREDIBLY EVIL TENTACLED ALIENS in dinner lady disguise. Nastier than school dinners. Will anyone survive?
#watchbeforeyouread-17
Fun Stuff
Activities
Happy Underwear Day! A Captain Underpants pic for you to colour!

Pants, wedgies and toilets… a fun Captain Underpants crossword for you!
Who's reading this?
We want to read this book