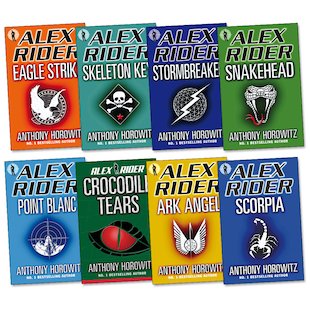 Look inside
Alex Rider Pack
A billionaire's gift – with a deadly sting in its tail.
Dr Grief's Point Blanc: a mountain school with a sinister secret.
The insane Russian General who plans to change history… the nuclear way.
A murderous madman and an assassin, both poised to strike.
A criminal group that can offer Alex something no-one else can: the truth.
The eco-terrorism cell with ambitions that are out of this world.
The Triads whose Snakeheads have poison in their blood.
The charity benefactor with murder on his mind.
One teenage boy. Eight awesome missions. Countless evil villains. A million horrible ways to die. Furious excitement, nail-biting danger, adrenaline-soaked tension and nerve-clenching thrills. The must-have pack from the must-read teenage spy!
Fun Stuff
Activities
Download an Alex Rider avatar here!

Download this cool Crocodile Eye wallpaper!

Download a Stormbreaker avatar here!

Alex Rider Stormbreaker wallpaper to decorate your computer!
Who's reading this?