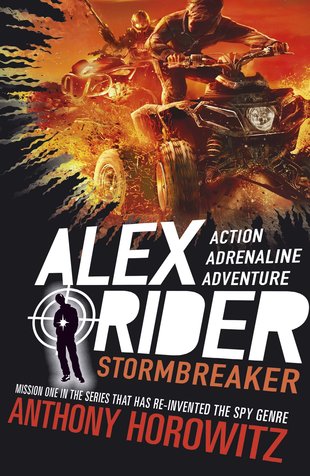 Look inside
Alex Rider #1: Stormbreaker
The Levi's 501 of spydom. Imitators? Fail. Teen spy Alex Rider is the original and best of his kind. Read the very first mission that primed him for world domination. Alex Rider is just a normal fourteen-year-old kid. He doesn't know how to win at hand-to-hand combat or defuse a bomb. Yet. Then the doorbell rings. Alex's guardian has been murdered, and Alex is being recruited into MI6 as its youngest ever spy. That's the start. And by the end of this book, Alex will face his first utterly evil villain. His name is Herod. Our guess: probably BAD.
#top100-092016
#top100-ages9to11
#rr-year6
#top-100-201718-primary
#top-100-201718-911
#top-100-201718-11
#top100age9to11
#top100age11plus
#top100-all
#top100-all1718
#top100age7to11
#top100age11to13plus
#toppacks-reading-collections
Who's reading this?
We want to read this book